2022 NFL preview: Cleveland Browns futures, Super Bowl odds, predictions and best bets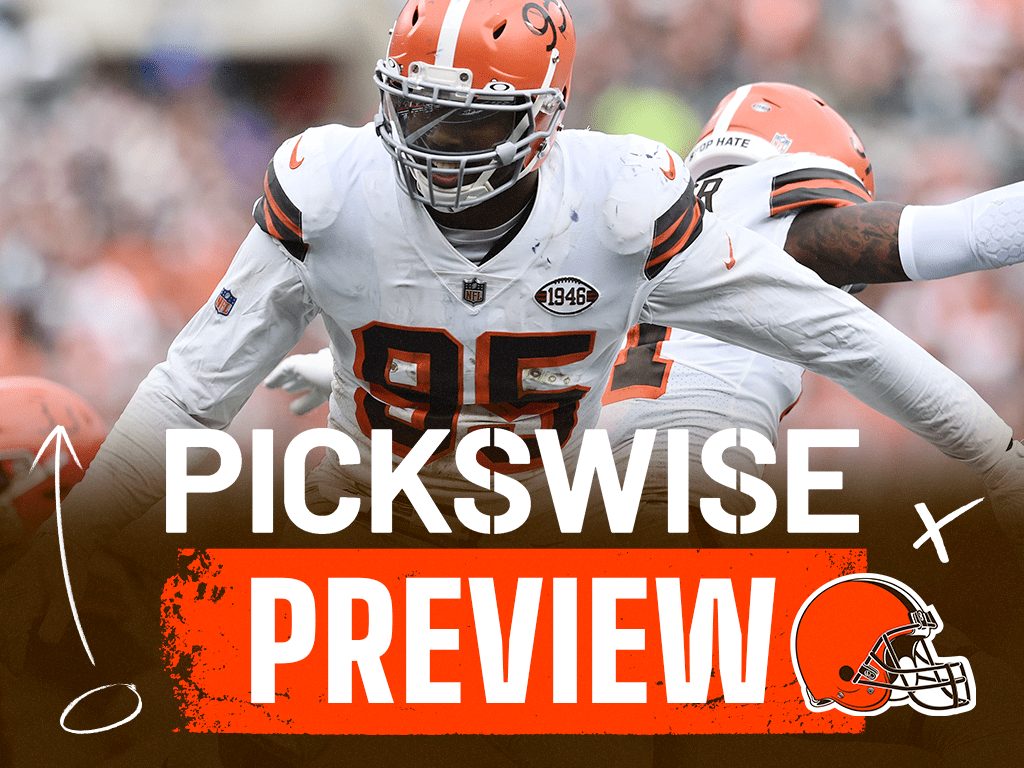 Oh boy. Where to start? The Cleveland Browns are undoubtedly the most difficult of the 32 NFL teams to preview for the 2022 NFL season. If controversial quarterback Deshaun Watson misses only the first 6 games of the season, the rest of the roster still has enough talent to get the team to the playoffs and beyond when he is able to play. If the NFL's appeal in his case for violating the league's personal conduct policy turns 6 games into a double-digit number or the whole season, things would look very different.
The Browns had looked a franchise on the rise when reaching the divisional playoffs in 2020, but things went badly wrong in 2021, with disgruntled players, Covid outbreaks at just the wrong time and quarterback Baker Mayfield playing hurt for the majority of the season. The club retains one of the strongest rosters in the league with a dominant the offensive line, elite running-back room and classy cornerbacks, but pretty much everything hinges on what happens in the Watson disciplinary case.
Cleveland Browns breakdown
2021 record: 8-9
2021 ATS record: 7-10
2021 O/U record: 7-10
Key players in: Deshaun Watson (QB), Jacoby Brissett (QB), Josh Dobbs (QB), Josh Rosen (QB), Amari Cooper (WR), Jakeem Grant (WR), Chase Winovich (DE), Taven Bryan (DT), Ethan Pocic (C)
Key players out: Baker Mayfield (QB), Case Keenum (QB), Nick Mullens (QB), Mack Wilson (LB), Rashard Higgins (WR), Jarvis Landry (WR), JC Tretter (C), Austin Hooper (TE), Malik Jackson (DT), Malik McDowell (DT), Troy Hill (CB), MJ Stewart (S)
2022 Draft class: MJ Emerson (CB), Alex Wright (DE), David Bell (WR), Perrion Winfrey (DT), Cade York (K), Jerome Ford (RB), Michael Woods (WR), Isaiah Thomas (DE), Dawson Deaton (C)
Cleveland Browns 2022 NFL season odds
Odds courtesy of DraftKings Sportsbook unless noted otherwise
Cleveland Browns Super Bowl odds
The Browns are joint-13th in DraftKings Sportsbook's odds to win Super Bowl 57 at +2500. They had been 30/1 before the initial ruling of a 6-game suspension in the Watson case.
Cleveland Browns AFC Championship odds
The Browns are joint-7th favorites to win the AFC at +1200, level with the Colts and only just behind the Bengals (+1100) and Ravens (+1000).
Cleveland Browns AFC North odds
DraftKings is not currently offering odds on the AFC North division, due to the uncertainty over Watson's availability, but FanDuel Sportsbook has the Browns at +300 for the title, behind the Ravens (+160) and Bengals (+180) and well ahead of the Steelers (+950).
Cleveland Browns win total odds
The Browns' regular-season wins line is at 8.5 with FanDuel Sportsbook, right around the 8-9 mark they posted last season. Over 8.5 wins has odds of +100 with the under at -120. They are +100 to make the playoffs with FanDuel.
Head to our NFL Odds page for odds on all the main NFL betting markets
Cleveland Browns schedule 2022
at Carolina Panthers, September 11
vs New York Jets, September 18
vs Pittsburgh Steelers, September 22
at Atlanta Falcons, October 2
vs Los Angeles Chargers, October 9
vs New England Patriots, October 16
at Baltimore Ravens, October 23
vs Cincinnati Bengals, October 31
BYE
at Miami Dolphins, November 13
at Buffalo Bills, November 20
vs Tampa Bay Buccaneers, November 27
at Houston Texans, December 4
at Cincinnati Bengals, December 11
vs Baltimore Ravens, December 18
vs New Orleans Saints, December 24
at Washington Commanders, January 1
at Pittsburgh Steelers, January 8
We'll have NFL picks for EVERY matchup of the 2022 season
Cleveland Browns 2021 season recap
The Browns' high hopes for 2021 were sunk under relentless waves of injuries, illness and dysfunctional relationships. Things started out well enough on the surface with 3 wins and narrow losses to the Chiefs and Chargers in games they should really have won, but things went badly wrong in the Week 6 loss to the Cardinals, as QB Baker Mayfield aggravated a shoulder injury he suffered earlier in the season. It affected his play for the rest of the year (Case Keenum started 2 games and Nick Mullens another), and his toxic relationship with wide receiver Odell Beckham Jr. led to Beckham being released in November. The Browns alternated promising and poor performances for much of the rest of the year. A Covid-ravaged squad led by Mullens fought well in a 16-14 loss to the Raiders and they suffered another costly defeat when Mayfield threw 4 interceptions at Green Bay on Christmas Day. Completing a sweep over the Super Bowl-bound Bengals in Week 18 was not even enough for a winning record.
Read our Super Bowl 57 predictions and best bets, including a +4500 longshot
Cleveland Browns 2022 NFL season predictions
Anyone's guess on this question is as valid as anyone else's at this stage. The Browns proved last year they can still win these days even when missing bunches of key players and getting poor quarterback play, so even an extended spell of Jacoby Brissett at QB is not unsurmountable. If Watson's punishment remains at 6 games, the Browns have the schedule that could seen them go 3-3 or 4-2 and be ready to roll when Watson is allowed to play. At this stage, we don't even know for sure if he will be allowed to play this year. The rest of the roster remains strong, with one of the best offensive lines in the league, Nick Chubb and Kareem Hunt leading the ground game and elite route runner Amari Cooper brought in to be the new #1 receiver. The Browns have a some great young cornerbacks, Myles Garett and Jadeveon Clowney coming off the edge and second-season linebacker Jeremiah Owosu-Koromoah looking set for stardom. They even drafted a kicker in Cade York who might just be the answer to years of costly PAT and field-goal misses. None of that might matter unless they can resolve their QB situation though. What we have here is a playoff-caliber team whose chances could hinge on events that are nothing to do with football.
Check out our analysis of the Defensive Player of the Year odds
Best bet: Cleveland Browns under 8.5 wins (-120)
There's no incentive to get involved in any early action on the Browns until we have more certainty about how their season will look. The value play could even be to take a swing at them to win the division, but at this point, with the potential for an unlimited suspension for Watson, the sensible play has to be to take the under on their regular-season wins. There's no enthusiasm for that bet though. Brissett might prove to be just as good as the version of Mayfield we saw last year and the defense and special teams support should be stronger. Kevin Stefanski won Coach of the Year two years ago and he's already had plenty of experience at battling through adversity.
Cleveland Browns season record predictions
Having taken the under, it's still hard to see this year turning into a tankathon for the Browns and there's just too much talent on the roster for them to be a hopeless case just because their planned QB upgrade has backfired (pretty spectacularly) to this point. Even so, with the prospect of an even longer suspension for Watson incoming, it's best to leave the Browns looking at something around a 7-10 record, maybe even a repeat of last year's equally disappointing 8-9 year.
Take a look at our best bets to win the AFC this season
Pickswise is the home of free expert NFL Picks and NFL Odds. Be sure to check out all of our season previews and NFL Futures Bets leading up to the 2022 NFL season.
The post 2022 NFL preview: Cleveland Browns futures, Super Bowl odds, predictions and best bets appeared first on Pickswise.