2022 NFL preview: Denver Broncos futures, Super Bowl odds, predictions and best bets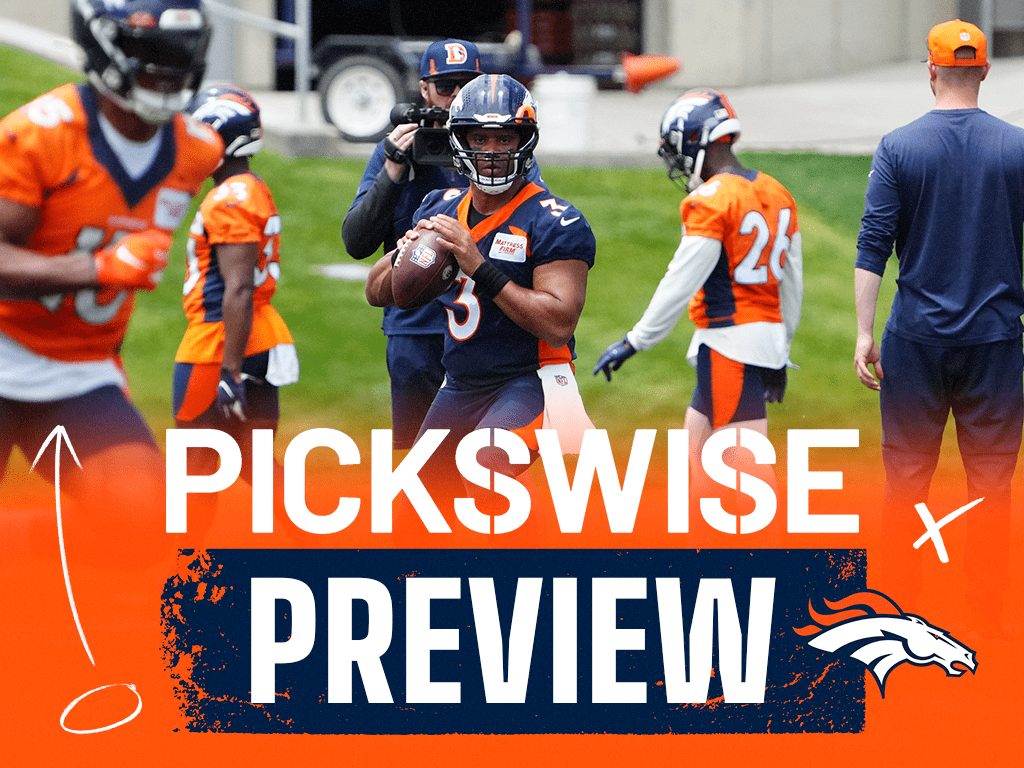 The Denver Broncos have not made the playoffs since they won the Super Bowl at the end of the 2015 season. Not coincidentally, that was the last time they had a reliable quarterback (Peyton Manning). Since Manning retired prior to the 2016 campaign, it has been nothing but early offseasons in Denver. Well, after compiling five straight losing records the Broncos finally went out and got a quarterback. Russell Wilson is in following a blockbuster deal with Seattle Seahawks?
Will Wilson immediately revitalize this franchise and lead it back to the playoffs in 2022? Could Denver even contend in the high-powered AFC West? Let's take a look at the Broncos' outlook for the upcoming campaign.
Denver Broncos breakdown
2021 record: 7-10
2022 ATS record: 8-9
2021 O/U record: 5-12
Key players in: Russell Wilson (QB), Billy Turner (OT), DJ Jones (DT)
Key players out: Teddy Bridgewater (QB), Drew Lock (QB), Kyle Fuller (CB), Noah Fant (TE), Shelby Harris (DE)
2022 NFL Draft class: Nick Bonitto (LB), Greg Dulcich (TE), Damarri Mathis (CB), Eyioma Uwzurike (DE), Delarrin Turner-Yell (S), Montrell Washington (WR), Luke Wattenberg (C), Matt Henningsen (DT), Faion Hicks (CB)
Denver Broncos 2022 NFL season odds
Odds provided by DraftKings Sportsbook
Denver Broncos Super Bowl odds
The Broncos are +1600 to win Super Bowl LVII, which has them tied with the San Francisco 49ers as the 7th favorites.
Denver Broncos AFC Championship odds
Denver is +850 to capture the AFC title, making it the 4th choice in the conference. The Buffalo Bills are +300 favorites, followed by the Kansas City Chiefs (+600) and Los Angeles Chargers (+750).
Denver Broncos AFC West odds
At +260, the Broncos are third favorites in the AFC West. Kansas City is a +175 favorite, while Los Angeles is +220.
Denver Broncos win total odds
The Broncos' win quota is 10 games. Over 10 is a slight -120 favorite, while the under comes with +100 odds. As for making the playoffs, Denver is a -145 favorite. It is +120 to miss the playoffs.
Head to our NFL Odds page for odds on all the main NFL betting markets
Denver Broncos schedule 2022
at Seattle Seahawks – September 12
vs Houston Texans – September 18
vs San Francisco 49ers – September 25
at Las Vegas Raiders – October 2
vs Indianapolis Colts – October 6
at Los Angeles Chargers – October 17
vs New York Jets – October 23
vs Jacksonville Jaguars – October 30
BYE
at Tennessee Titans – November 13
vs Las Vegas Raiders – November 20
at Carolina Panthers – November 27
at Baltimore Ravens – December 4
vs Kansas City Chiefs – December 11
vs Arizona Cardinals – December 18
at Los Angeles Rams – December 25
at Kansas City Chiefs – January 1
vs Los Angeles Chargers – January 8
We'll have NFL picks for EVERY matchup of the 2022 season
Denver Broncos 2021 season recap
In what proved to be their final season with Teddy Bridgewater and Drew Lock under center, the Broncos started 3-0 and on 3 other occasions they won games to emerge above .500 (at 5-4, 6-5 and 7-6). However, they could not overcome a pair of 4-game losing streaks including the last 4 weeks of the year. Denver was mathematically eliminated from playoff contention in Week 17 on the way to a 7-10 record. Melvin Gordon III and Javonte Williams provided a nice one-two punch in the backfield, but the passing game underwhelmed. Denver's defense was good enough, but it needed to be spectacular in order to make up for offensive deficiencies. Spectacular it was not.
Read our Super Bowl 57 predictions and best bets, including a +4500 longshot
Denver Broncos 2022 NFL season predictions
Acquiring Wilson was not the only big move made by Denver during the offseason. There was a change at the top, too, as head coach Vic Fangio got fired after compiling a 19-30 record in 3 seasons. Nathaniel Hackett, who had been the quarterbacks coach for Aaron Rodgers and the Green Bay Packers, is taking over. The good news for Hackett – and for Broncos fans – is that Hackett will be working with Wilson as opposed to Bridgewater or Lock. Wilson's presence alone makes this a completely different team, but given the difficulty of the AFC West the Broncos will have to be a lot different in order to make significant progress in the win column. Just how much better they can be remains to be seen.
Best bet: Denver Broncos under 10 wins (+100)
I would avoid betting for or against this team like the plague. There is simply too much potential for both overachievement and underachievement. However, of the options my favorite play is under 10 wins – especially when you can get it at plus money. Although there is plenty of talent on the roster, there may be growing pains with a new head coach and a new starting quarterback. Receiver Tim Patrick was just ruled out for the year with a torn ACL, too. This could be a push, but the under seems more likely than the over even though the odds suggest otherwise.
Denver Broncos season record predictions
I'm looking at 10-7 or 9-8 for the Broncos. For the sake of the above bet, let's side with the lower end of that ledger. If Denver goes 9-8, it will be right on the brink of a long-awaited return trip to the playoffs.
Find out which QBs we're targeting for our NFL MVP best bets
Pickswise is the home of free expert NFL Picks and NFL Odds. Be sure to check out all of our season previews and NFL Futures Bets leading up to the 2022 NFL season.
The post 2022 NFL preview: Denver Broncos futures, Super Bowl odds, predictions and best bets appeared first on Pickswise.