2022 Preview: Dallas Cowboys Futures, Super Bowl Odds, Predictions and Best Bets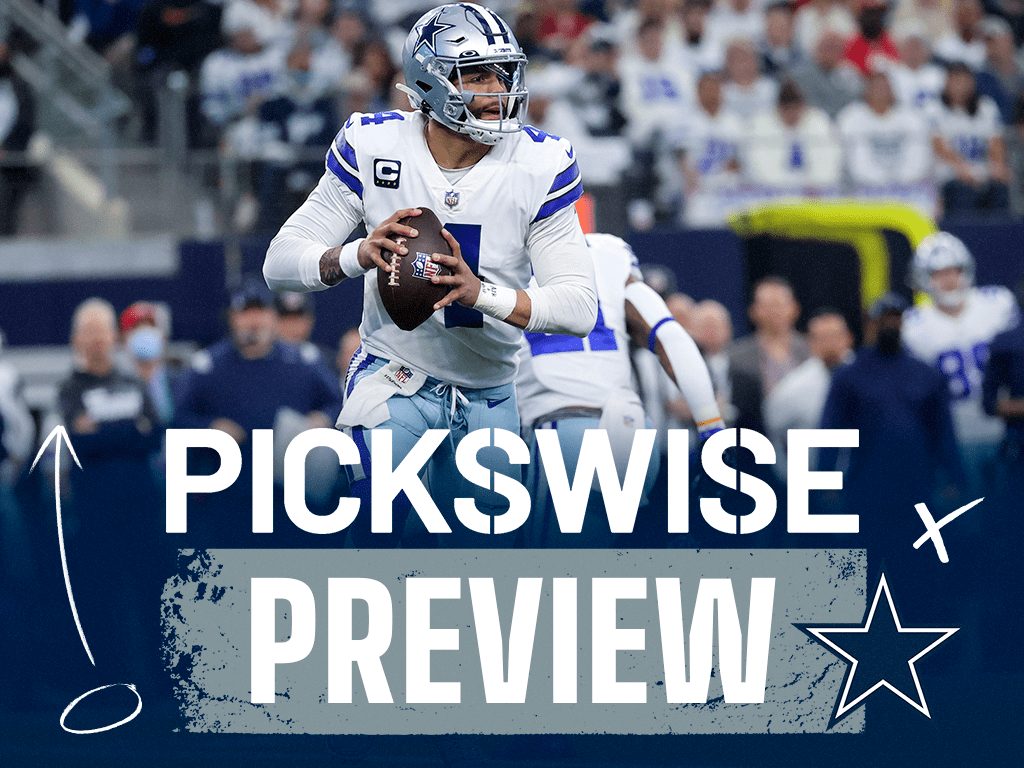 Dak Prescott led the Dallas Cowboys back to the playoffs in 2021, but it was another early playoff exit has Dallas. However, there were a lot of positives to take away from their 2021 season like breakout stars Micah Parsons and Trevon Diggs on defense. But are the Cowboys ready for another playoff run? Or will it be another disappointing season in Dallas?
Dallas Cowboys breakdown
2021 record: 12-5
2021 ATS record: 13-4
2021 O/U record: 8-9
Key players in: James Washington (WR), Carlos Watkins (DT)
Key players out: Amari Cooper (WR), Cedrick Wilson (WR), Blake Jarwin (TE), La'el Collins (RT), Randy Gregory (DE)
2022 NFL Draft class: Tyler Smith (OT), Sam Williams (EDGE), Jalen Tolbert (WR), Jake Ferguson (TE), Matt Waletzko (OT), DaRon Bland (CB), Damone Clark (LB), John Ridgeway (DT), Devin Harper (LB)
Dallas Cowboys 2022 NFL season odds
Odds provided by DraftKings Sportsbook
Dallas Cowboys Super Bowl odds
The Cowboys are +2000 to win Super Bowl LVII, which puts them in the top of the pack.
Dallas Cowboys NFC Championship odds
Dallas is +850 to capture the NFC title, only behind the Tampa Bay Buccaneers (+330), Green Bay Packers (+400), Los Angeles Rams (+500), and San Francisco 49ers (+750).
Dallas Cowboys NFC East odds
At +135, the Cowboys are the favorites to win the NFC East. It would be their second division title in as many seasons.
Dallas Cowboys win total odds
The Cowboys' win quota is 10 games. The under and over 10 wins carry the same -110 odds. As for making the playoffs, Dallas is expected to make it with -250 odds. They are +195 to miss the playoffs.
Head to our NFL Odds page for odds on all the main NFL betting markets
Dallas Cowboys Schedule 2022
vs Tampa Bay Buccaneers, September 11
vs Cincinnati Bengals, September 18
at New York Giants, September 26
vs Washington Commanders, October 2
at Los Angeles Rams, October 9
at Philadelphia Eagles, October 16
vs Detroit Lions, October 23
vs Chicago Bears, October 30
BYE
at Green Bay Packers, November 13
at Minnesota Vikings, November 20
vs New York Giants, November 24
vs Indianapolis Colts, December 4
vs Houston Texans, December 11
at Jacksonvillle Jaguars, December 18
vs Philadelphia Eagles, December 24
at Tennessee Titans, December 2
at Washington Commanders, January 8
We'll have NFL picks for EVERY matchup of the 2022 season
Dallas Cowboys 2021 season recap
Although the Cowboys were eliminated in the first round of the playoffs, it was a successful season for Dallas. The Cowboys surprised a lot of people with their 12-5 season, and it was largely due to their improved defense. Micah Parsons exceeded all expectations in his first season as he won the Defensive Rookie of the Year award and was a vital part of the Cowboys' defense. Trevon Diggs was a pleasant surprise in the secondary as the cornerback led the NFL in interceptions, interception yards, and defensive touchdowns. And on offense Dak Prescott shined as he returned from his season-ending injury in 2020, but he's now just 1-3 in the playoffs.
Read our Super Bowl 57 predictions and best bets, including a +4500 longshot
Dallas Cowboys 2022 NFL season predictions
The Cowboys are going into the 2022 season worse than they did in 2021. During the offseason, Dallas lost wide receiver Amari Cooper, right tackle La'el Collins, wide receiver Cedrick Wilson Jr., and defensive end Randy Gregory who all played important roles for the Cowboys. Without Cooper, that puts even more pressure on CeeDee Lamb, which could become predictable. Prescott and Lamb's connection grew as the season went on, and there's no doubt Lamb will be the make-or-break piece to the Cowboys' offense in 2022. I've given up on Ezekiel Elliott because he's a shell of who he used to be. However, the Cowboys are still the favorite to defend their divisional title and win the NFC East.
Best bet: Dallas Cowboys to win the NFC East (+135)
For the first time since 2004, I think an NFC East team will win back-to-back titles. The Cowboys won the NFC East last season and have all the pieces to do it again. The Commanders and Eagles improved this offseason, but they're both more likely fighting for a Wild Card spot than the division title. The loss of Cooper will impact the Dallas offense, but Lamb should shine in his absence and be a principal factor in the Cowboys' success this season.
Dallas Cowboys season record predictions
The Cowboys have a relatively easy schedule this season when looking at their opponents, so I expect an 11-6 record for Dallas in 2022. That will likely be all they need to win the NFC East.
Find out which QBs we're targeting for our NFL MVP best bets
Pickswise is the home of free expert NFL Picks and NFL Odds. Be sure to check out all of our season previews and NFL Futures Bets leading up to the 2022 NFL season.
The post 2022 Preview: Dallas Cowboys Futures, Super Bowl Odds, Predictions and Best Bets appeared first on Pickswise.