FireKeepers Casino 400 NASCAR betting preview and best bets: They may be chasing Ross Chastain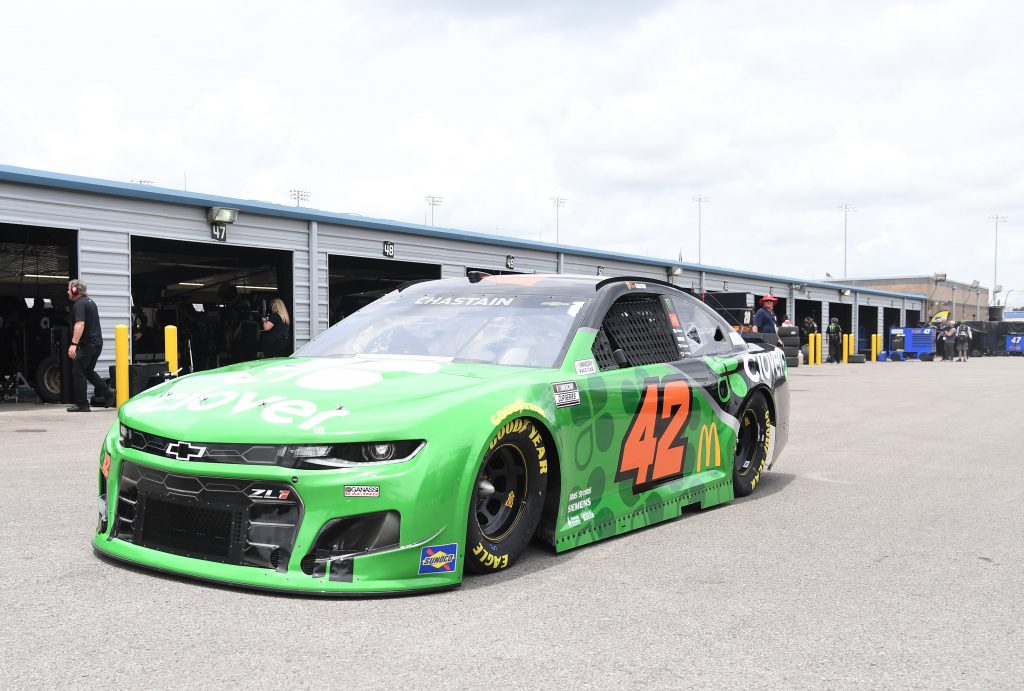 The Irish Hills part of Michigan is filled with rolling hills and lush greenery. One weekend a year, though, the village of Brooklyn, Michigan stirs to life as host of the FireKeepers Casino 400 at Michigan International Speedway. The 2-mile, D-shaped oval is known as one of the fastest tracks on the NASCAR Cup Series schedule.
Michigan International Speedway betting strategies
There are only four races left in the NASCAR Cup Series regular season this year. What can we do with that info? Well, there are 14 winners so far in the 2022 season and only 16 drivers make it into the playoffs. In the last nine races at Michigan, the winner of the race has been a driver who already won earlier in the year. That indicates that we'll see a repeat winner if that trend holds. The 2-mile layout here has solid banking of 16 degrees in the corners and 12 degrees on the front stretch which lets speed build throughout a lap. The drivers that can drive the smoothest lines will keep their speed up the best. That speed is also why five of the last six races here have been won from the top-three spots in the grid. The only outlier was a driver winning from P20, although that was due to an inverting the top half of the field from the race the day before. One last thing to keep in mind this weekend is that Ford puts a lot importance on this race with their world headquarters just down the road from the track. That shows with 11 of the last 20 races being won by Ford — including seven straight.
FireKeepers Casino 400 outright winner best bets
Odds listed are from DraftKings Sportsbook at time of publishing.
Kyle Larson (+700)
Larson got the nickname Two-Mile Kyle because the first handful of wins he posted in the Cup series were at 2-mile tracks, including three at Michigan. He won at Auto Club earlier in the year, though didn't have the fastest car, then did well at Vegas, Kansas, and dominated the second-half of the Charlotte race. All of those are comparable tracks. It's time for Larson to kick on the mojo for the playoffs so why not at a track that he's won at three times?
Favorite Bet: Ross Chastain (+900)
Chastain has been fast everywhere. It's basically that simple. He dominated Vegas before a tire issue ended his day. Then came Kansas and a Charlotte race he also dominated. Chastain will be wanting to get a better finish back in column after the penalty he took at Indy Road last week. As long as he keeps the car clean, and avoids retaliation, he should be a factor for the lead late on Sunday.
Kevin Harvick (+2500)
Harvick is in a weird spot this weekend. Scroll up a bit in this article and you'll see where I mention that the last nine races at Michigan have seen winners who've already won that year. That's not Harvick. However, Harvick has won the last three races here, even when things weren't great for him last year. He's been showing very good speed of late, he's in a Ford, and needs a win to solidify his playoff spot. This is likely the last best shot for him to clinch a spot, so why not bet a three-time winner at a 25x return?
Longshot: Aric Almirola (+10000)
Hold up, haven't we only been using Almriola at shorter, flatter tracks? Why yes, yes we have. This decidedly isn't that type of track so why is he here? Well, that's just the thing, we can't pigeon hole people completely in NASCAR. He's finished in the top-six here a few times in recent years and Almirola was fast at similar tracks earlier this year. He clearly needs help for the win, firstly speed, and secondly that everything falls in his favor. At these odds though that's always what we need and there are plenty of drivers in this spot that don't have his track history.
Best prop bets for Michigan
Aric Almirola top-10 finish (+350)
This comes down to hedging the bet to win. Four of his seven top-11 finishes this year have come at non-drafting intermediate tracks that compare to Michigan. It's those results we're banking on for this bet as he tries to keep his playoff bubble hopes alive.
Brad Keselowski top-10 finish (+350)
Michigan is his home track. He's always been a threat here for good finishes despite not having a win here yet. Luckily for us we don't need a win, we just need a top-10 finish from the Michigander, something he's done 13 times in 24 races here. It's been an up-and-down season for Keselowski but the speed has been building of late and has routinely been a top-10 car for chunks of races. If we'd like to go with a more consistent similar car, his teammate Chris Buescher is having a career year in terms of top-10s.
Kevin Harvick top Ford (+500)
There is not another Ford driver with more top-10s this year than Harvick. Now comes a track he's won at three-straight times and we're getting a 5x return on him simply being the first Ford to cross the line? It's not hard to see why this bet makes sense. That doesn't even include the fact that the 4-car has been a lot racier in the last few races as well.
Ricky Stenhouse Jr. top-10 finish (+350)
Here's an interesting bet. We don't think of Stenhouse as a guy for intermediate tracks, but this year we should be. Four of his five top-10s, in points races, have been at non-drafting intermediate tracks that compare to Michigan. That's enough for me to put some money on a bet DraftKings is giving odds of hitting at 22-percent. Stenhouse has pulled that feat off between 50-57 percent depending on what you count as an intermediate track.
Our expert NASCAR handicappers provide race analysis, betting advice and NASCAR Predictions and NASCAR Picks on every race. Check out our latest NASCAR Picks today!
The post FireKeepers Casino 400 NASCAR betting preview and best bets: They may be chasing Ross Chastain appeared first on Pickswise.