MLB Daily Lineups & Injury News (April 8): Ketel Marte Likely Out For Diamondbacks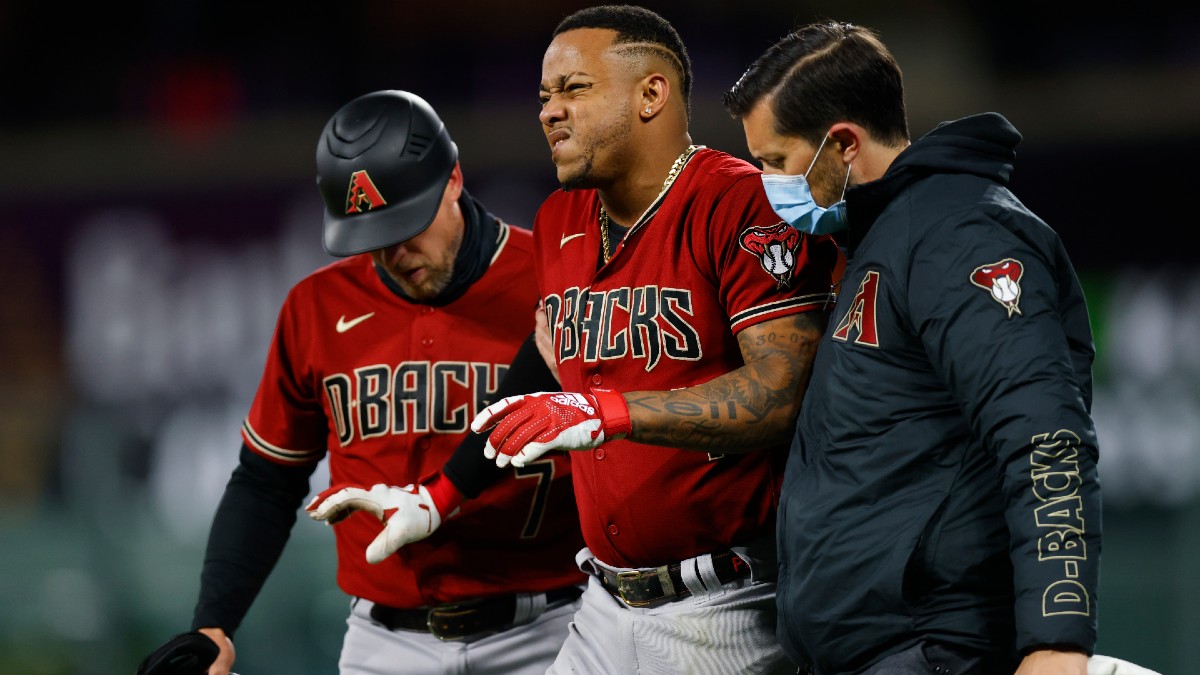 Below are the projected starting lineups for each team playing on Thursday's MLB slate. For real-time updates to these lineups, check out our Action Labs MLB lineups page.
---
Arizona Diamondbacks star Ketel Marte is projected out of the lineup for Thursday's game against the Colorado Rockies. Marte left Wednesday's 8-0 loss after injuring his leg while trying to beat out a throw to first base in the sixth inning. We project Tim Locastro to get the start in Marte's place.
Be sure to stay tuned to the Action Labs MLB lineups page for the status of Marte and every player on Thursday's slate.
Miami Marlins vs. New York Mets, 1:10 p.m. ET
Probable Starting Pitchers
Marlins: Nick Neidert (R)
Mets: Taijuan Walker (R)
Projected Lineups
| Miami Marlins vs. Walker (R) | Position |
| --- | --- |
| Corey Dickerson | LF |
| Starling Marte | CF |
| Jesus Aguilar | 1B |
| Adam Duvall | RF |
| Brian Anderson | 3B |
| Jazz Chisholm | 2B |
| Jorge Alfaro | C |
| Miguel Rojas | SS |
| Nick Neidert | P |
Key Players Projected Out: None
| New York Mets vs. Neidert (R) | Position |
| --- | --- |
| Brandon Niimmo | CF |
| Francisco Lindor | SS |
| Michael Conforto | RF |
| Pete Alonso | 1B |
| Dominic Smith | LF |
| Jonathan Villar | 2B |
| Jeff McNeil | 3B |
| James McCann | C |
| Taijuan Walker | P |
Key Players Projected Out: None
Chicago Cubs vs. Pittsburgh Pirates, 1:35 p.m. ET
Probable Starting Pitchers
Cubs: Jake Arrieta (R)
Pirates: Tyler Anderson (L)
Projected Lineups
| Chicago Cubs vs. Anderson (L) | Position |
| --- | --- |
| Willson Contreras | C |
| Kris Bryant | 3B |
| Anthony Rizzo | 1B |
| Javier Baez | SS |
| Joc Pederson | LF |
| Jake Marisnick | CF |
| Jason Heyward | RF |
| David Bote | 2B |
| Jake Arrieta | P |
Key Players Projected Out: Ian Happ
| Pittsburgh Pirates vs. Arrieta (R) | Position |
| --- | --- |
| Adam Frazier | 2B |
| Kevin Newman | SS |
| Bryan Reynolds | LF |
| Colin Moran | 1B |
| Phillip Evans | 3B |
| Gregory Polanco | RF |
| Jacob Stallings | C |
| Dustin Fowler | CF |
| Tyler Anderson | P |
Key Players Projected Out: None
Boston Red Sox vs. Baltimore Orioles, 3:05 p.m. ET
Probable Starting Pitchers
Red Sox: Eduardo Rodriguez (L)
Orioles: Matt Harvey (R)
Projected Lineups
| Boston Red Sox vs. Harvey (R) | Position |
| --- | --- |
| Enrique Hernandez | 2B |
| Alex Verdugo | CF |
| J.D. Martinez | DH |
| Hunter Renfroe | RF |
| Rafael Devers | 3B |
| Christian Vazquez | C |
| Franchy Cordero | LF |
| Bobby Dalbec | 2B |
| Christian Arroyo | SS |
Key Players Projected Out: Xander Bogaerts
| Baltimore Orioles vs. Rodriguez (L) | Position |
| --- | --- |
| Cedric Mullins | CF |
| Trey Mancini | DH |
| Anthony Santander | RF |
| Ryan Mountcastle | LF |
| Maikel Franco | 3B |
| Pedro Severino | C |
| Pat Valaika | 1B |
| Freddy Galvis | SS |
| Ramon Urias | 2B |
Key Players Projected Out: None
Arizona Diamondbacks vs. Colorado Rockies, 3:10 p.m. ET
Probable Starting Pitchers
Diamondbacks: Merrill Kelly (R)
Rockies: Jon Gray (R)
Projected Lineups
| Arizona Diamondbacks vs. Gray (R) | Position |
| --- | --- |
| Josh Rojas | SS |
| Tim Locastro | CF |
| Christian Walker | 1B |
| David Peralta | LF |
| Asdrubal Cabrera | 3B |
| Eduardo Escobar | 2B |
| Pavin Smith | RF |
| Carson Kelly | C |
| Merrill Kelly | P |
Key Players Projected Out: Ketel Marte
| Colorado Rockies vs. Kelly (R) | Position |
| --- | --- |
| Raimel Tapia | LF |
| Garrett Hampson | CF |
| Trevor Story | SS |
| Charlie Blackmon | RF |
| C.J. Cron | 1B |
| Ryan McMahon | 2B |
| Josh Fuentes | 3B |
| Dom Nunez | C |
| Jon Gray | P |
Key Players Projected Out: None
Seattle Mariners vs. Minnesota Twins, 4:10 p.m. ET
Probable Starting Pitchers
Mariners: Marco Gonzales (L)
Twins: Jose Berrios (R)
Projected Lineups
| Seattle Mariners vs. Berrios (R) | Position |
| --- | --- |
| Mitch Haniger | RF |
| Ty France | DH |
| Kyle Seager | 3B |
| Jose Marmolejos | 1B |
| Taylor Trammell | CF |
| Dylan Moore | 2B |
| Sam Haggerty | LF |
| Tom Murphy | C |
| J.P. Crawford | SS |
Key Players Projected Out: Evan White
| Minnesota Twins vs. Gonzales (L) | Position |
| --- | --- |
| Mitch Garver | C |
| Kyle Garlick | RF |
| Nelson Cruz | DH |
| Jorge Polanco | 2B |
| Byron Buxton | CF |
| Miguel Sano | 1B |
| Max Kepler | LF |
| Willians Astudillo | 3B |
| Andrelton Simmons | SS |
Key Players Projected Out: Josh Donaldson, Luis Arraez
Kansas City Royals vs. Chicago White Sox, 4:10 p.m. ET
Probable Starting Pitchers
Royals: Brad Keller (R)
White Sox: Lance Lynn (R)
Projected Lineups
| Kansas City Royals vs. Lynn (R) | Position |
| --- | --- |
| Whit Merrifield | 2B |
| Andrew Benintendi | LF |
| Carlos Santana | 1B |
| Salvador Perez | C |
| Jorge Soler | DH |
| Hunter Dozier | 3B |
| Kyle Isbel | RF |
| Michael A. Taylor | CF |
| Nicky Lopez | SS |
Key Players Projected Out: None
| Chicago White Sox vs. Keller (R) | Position |
| --- | --- |
| Adam Eaton | RF |
| Luis Robert | CF |
| Jose Abreu | 1B |
| Yoan Moncada | 3B |
| Yermin Mercedes | DH |
| Yasmani Grandal | C |
| Andrew Vaughn | LF |
| Leury Garcia | SS |
| Nick Madrigal | 2B |
Key Players Projected Out: Eloy Jimenez, Tim Anderson
Milwaukee Brewers vs. St. Louis Cardinals, 4:15 p.m. ET
Probable Starting Pitchers
Brewers: Corbin Burnes (R)
Cardinals: Adam Wainwright (R)
Projected Lineups
| Milwaukee Brewers vs. Wainwright (R) | Position |
| --- | --- |
| Kolten Wong | 2B |
| Keston Hiura | 1B |
| Christian Yelich | LF |
| Travis Shaw | 3B |
| Jackie Bradley Jr. | CF |
| Avisail Garcia | RF |
| Omar Narvaez | C |
| Luis Urias | SS |
| Corbin Burnes | P |
Key Players Projected Out: None
| St. Louis Cardinals vs. Burnes (R) | Position |
| --- | --- |
| Tommy Edman | RF |
| Paul Goldschmidt | 1B |
| Nolan Arenado | 3B |
| Paul DeJong | SS |
| Matt Carpenter | 2B |
| Yadier Molina | C |
| Tyler O'Neill | LF |
| Dylan Carlson | CF |
| Adam Wainwright | P |
Key Players Projected Out: None
Los Angeles Angels vs. Toronto Blue Jays, 7:07 p.m. ET
Probable Starting Pitchers
Angels: Griffin Canning (R)
Blue Jays: Ross Stripling (R)
Projected Lineups
| Los Angeles Angels vs. Stripling (R) | Position |
| --- | --- |
| David Fletcher | 2B |
| Shohei Ohtani | DH |
| Mike Trout | CF |
| Anthony Rendon | 3B |
| Jared Walsh | 1B |
| Justin Upton | LF |
| Jose Iglesias | SS |
| Max Stassi | C |
| Dexter Fowler | RF |
Key Players Projected Out: None
| Toronto Blue Jays vs. Canning (R) | Position |
| --- | --- |
| Marcus Semien | 2B |
| Cavan Biggio | 3B |
| Bo Bichette | SS |
| Teoscar Hernandez | RF |
| Vladimir Guerrero Jr. | 1B |
| Lourdes Gurriel Jr, | LF |
| Rowdy Tellez | DH |
| Randal Grichuk | CF |
| Danny Jansen | C |
Key Players Projected Out: George Springer
Oakland Athletics vs. Houston Astros, 8:10 p.m. ET
Probable Starting Pitchers
Athletics: Cole Irvin (L)
Astros: Cristian Javier (R)
Projected Lineups
| Oakland Athletics vs. Javier (R) | Position |
| --- | --- |
| Mark Canha | LF |
| Ramon Laureano | CF |
| Matt Olson | 1B |
| Matt Chapman | 3B |
| Mitch Moreland | DH |
| Jed Lowrie | 2B |
| Sean Murphy | C |
| Stephen Piscotty | RF |
| Elvis Andrus | SS |
Key Players Projected Out: None
| Houston Astros vs. Irvin (L) | Position |
| --- | --- |
| Jose Altuve | 2B |
| Michael Brantley | LF |
| Alex Bregman | 3B |
| Yordan Alvarez | DH |
| Carlos Correa | SS |
| Kyle Tucker | RF |
| Yuli Gurriel | 1B |
| Myles Straw | CF |
| Martin Maldonado | C |
Key Players Projected Out: None