MLB Odds & Picks: 4 Best Bets for Monday, Including Giants vs. Rockies, Rays vs. Angels & Blue Jays vs. Athletics (May 3)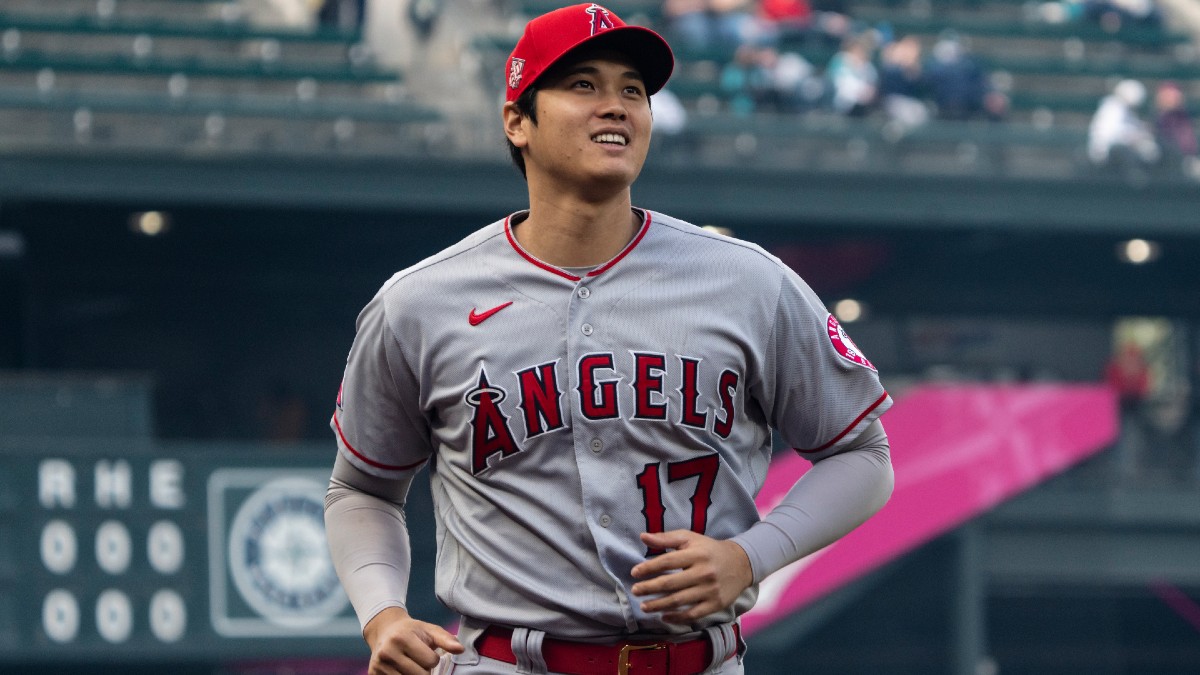 There are 10 games on the MLB slate for Monday, including a high-profile matchup between the Dodgers and Cubs. a top prospect debut in Kansas City, and Shohei Ohtani on the mound for the Angels.

Our analysts have found four bets from three games to recommend from the slate, including a trio of full-game moneylines and one for the first five innings. Below, you fill find our four best bets from Monday's MLB slate.
_BookPromo=351
MLB Odds & Picks
San Francisco Giants vs. Colorado Rockies
| | |
| --- | --- |
| Pick | Rockies -108 |
| Book | FanDuel |
| Pitchers | Aaron Sanchez vs. Germán Márquez |
| First Pitch | 8:40 p.m. ET |
Stuckey: One of the major storylines early on in this season has been how good the Giants' rotation has been good. In fact, they've been historically dominant as the first team since the 1978 Athletics to boast five starters with ERAs under 2.50 with a minimum of three starts at the end of April.
One of those starters who has been maybe the biggest surprise is Aaron Sanchez, who joined the Giants in the offseason after recovering from an injury that kept him sidelined for most of 2019 and all of 2020. Sanchez has posted an impressive 2.22 ERA and 1.07 WHIP so far, but there are some signs this start could be a bit of a mirage. His velocity is down and he has also benefited from an extremely fortunate BABIP and an unsustainable ground ball rate.
Walks have plagued the former Blue Jay in the past, but he has been much more in the zone so far this season. Although I'm not sure that's that much of a positive given that velocity decrease. And we saw some of those control issues (five walks) in his last start against these same Rockies.  Sanchez has varied his pitch mix this year and is throwing his curve more than ever, but that and his sinker might not necessarily play well in the altitude of Coors.
Colorado isn't a good team by any measure but they will have their ace Germán Márquez on the bump. I ultimately think there's some value here in the Rockies at home against a Giants team coming off an emotional series against the Padres. Likely getting some value here based on how differently these teams have started out of the gates, I'll take my shot with Márquez against Sanchez, who may have a rough outing coming his way.

_BookPromo=504
---
» Return to the table of contents «
---
Tampa Bay Rays vs. Los Angeles Angels
| | |
| --- | --- |
| Pick | Angels +101 |
| Book | William Hill |
| Pitchers | Tyler Glasnow vs. Shohei Ohtani |
| First Pitch | 9:38 p.m. ET |
Kevin Davis: When Shohei Ohtani is on the mound as he is tonight, the question is if he will be in the lineup or not. While the Angels previously kept Ohtani out of the lineup on days he pitches, that's changed recently, and it's a change that matters a good deal.
Having Ohtani in the lineup on days that he pitches increases LA's chances of winning 1.5 percentage points, according to my model. Ohtani has a .271 batting average, eight home runs, 20 RBI and a wRC+ of 162. Only Mike Trout is a better offensive player than Ohtani in the Angels' lineup.
On the pitching side, Ohtani has a 3.29 ERA, a 3.66 xFIP, and most impressively a strikeout rate of 15.15 per nine innings. Against a strikeout-prone Tampa Bay lineup at home, the Angels should be favored. Right now, I like them as even money underdogs, and I would bet them up to -115 if Ohtani is in the lineup or -107 if he is not.
_BookPromo=560
---
» Return to the table of contents «
---
Tampa Bay Rays vs. Los Angeles Angels
| | |
| --- | --- |
| Pick | Rays First Five Innings -125 |
| Book | DraftKings |
| Pitchers | Tyler Glasnow vs. Shohei Ohtani |
| First Pitch | 9:38 p.m. ET |
Sean Zerillo: Don't get me wrong, the Shohei Ohtani experience is incredible. He's bringing casual viewers to the game and creating interest in the sport that it desperately needs while paving the way for the future generation of two-way superstars. Still, because of that popularity, Ohtani is typically overvalued on a game-to-game basis, too.
We still have a relatively limited data sample of Ohtani's MLB career — particularly regarding his pitching — but the results to date aren't as glorious as you might imagine.
His 2021 (4.55) and career (4.19) SIERA are both closer to average than his marks in both FIP (3.99, 3.91) and xFIP ( 3.68, 3.85). His xERA (4.48) over a limited sample this season indicates that Ohtani has overachieved; Shohei has an actual wOBA of .283, with an expected wOBA or xwOBA of .342 this season, due to relatively poor command (13 walks in 13 2/3 innings pitched).
Ohtani has elite stuff. He ranks in the top 10 among starting pitchers for average fastball velocity (97.0 mph), but he's 49th in swinging-strike rate and 47th in called strike plus whiff rate (CSW%) to this point in the season.
Compare his metrics to Monday's opponent, Tyler Glasnow, who ranks sixth in swinging-strike rate, fifth in CSW%, and is carrying a 1.70 FIP, 2.56 xFIP, 2.50 SIERA, and a 1.92 xERA.
The Rays' righty added a slider to his arsenal this season (28.7% usage) which has helped protect his fastball when he falls behind in the count. And the third pitch has paid dividends, giving Glasnow a trio of above-average offerings.
I rank Glasnow as a more effective pitcher than Ohtani at present, and I have the Rays projected as a 60% favorite in the first five innings (F5) and a 53.5% favorite over the whole game for Monday.
I like the Rays' full game moneyline to about -110, but I prefer the value on their F5 moneyline, and I would play their F5 price up to -135.
_BookPromo=351
---
» Return to the table of contents «
---
Toronto Blue Jays vs. Oakland Athletics
| | |
| --- | --- |
| Pick | Blue Jays +115 |
| Book | William Hill |
| Pitchers | Steven Matz vs. Frankie Montas |
| First Pitch | 9:40 p.m. ET |
Kenny Ducey: I was sure that, by now, no one believed Frankie Montas was actually a good pitcher. Then, I saw the line on Monday's game. As bad as Toronto has hit, it should win this game.
Montas had somewhat of a breakout 2019 season, which excited many, but like almost every other young A's pitcher he's done nothing but disappoint since then. Montas hits 96 mph on his sinker, but catches a ton of the plate, which has resulted in buckets and buckets of hard contact. He's already given up 12 barrels on 81 batted balls in 24 ⅔ innings, and his hard-hit rate sits at 40.7% on the season. As a result, he's in the bottom 13% of the league in expected slugging percentage, which is problematic considering he pitches to contact and doesn't strike many guys out.
The Blue Jays are beginning to heat up, scoring 7.4 runs per game over the past five and seeing guys like Marcus Semien and Bo Bichette really wake up at the dish. I love this spot for this lineup.
On the other hand, you have an A's lineup that has really cooled off after a hot run in the middle of April and that will have to face one of the big surprises of 2021 in Steven Matz. The lefty had been fantastic up until a tough outing against the Nationals last week, but should bounce back considering his peripherals are solid. He's been better than league average in strikeout and walk rate, and his expected ERA sits at 3.48 on the year. I've seen enough this year to write it off as a tough outing.
Put all that together and the Blue Jays should probably be road favorites.
---
» Return to the table of contents «
---