NBA Odds & Picks: Our Staff's Best Bets for 76ers vs. Raptors, Trail Blazers vs. Nuggets, More (Tuesday, Feb. 23)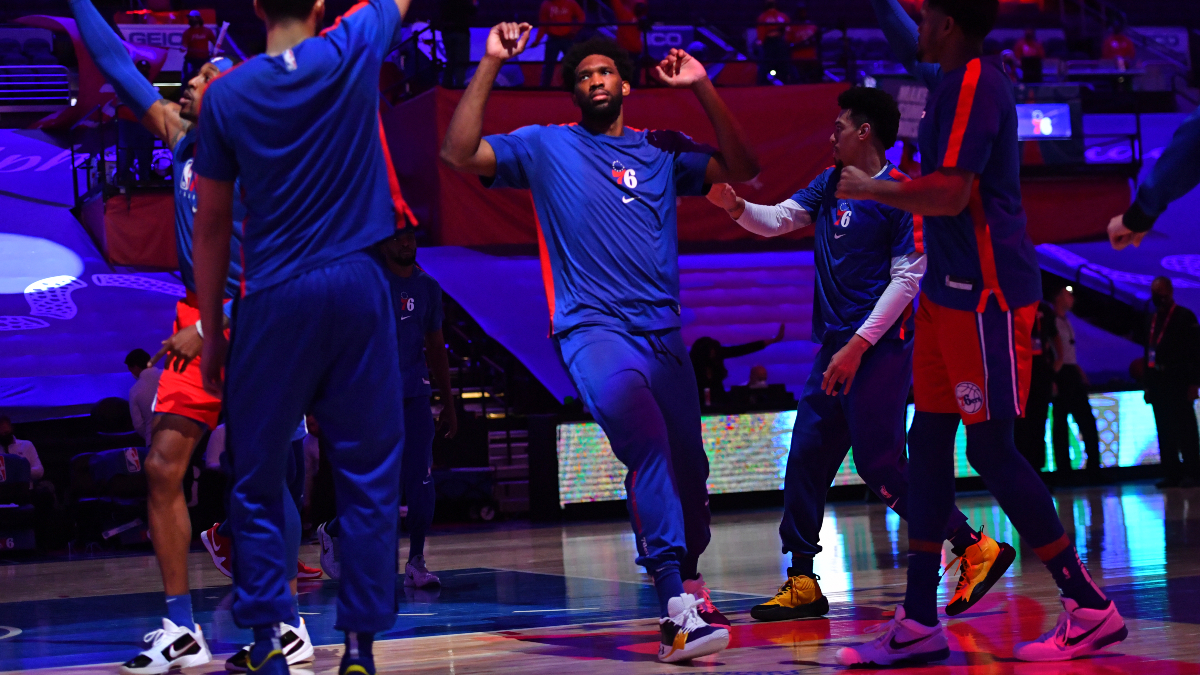 Tuesday's NBA slate brings us some fun matchups to watch, especially on the national TV stage with the Boston Celtics facing the Dallas Mavericks (7:30 p.m. ET on TNT) and the Portland Trail Blazers playing the Denver Nuggets (10 p.m. ET on TNT).
While a scoring prop from one of those matchups has made its way into our favorite bets for tonight, our analysts are also betting a spread and prop in two other games tonight.
You can find their analysis and picks on those matchups below.
NBA Odds & Picks
Philadelphia 76ers vs. Toronto Raptors
| | |
| --- | --- |
| Pick | 76ers -1.5 (PointsBet) |
| Tipoff | 7:30 p.m. ET |
| TV | NBA League Pass |
Raheem Palmer: It's inexplicable but for the second straight season, the 76ers have struggled to score on the road. Although their home/road splits aren't as extreme as last season's numbers (31-4 at home and 12-26 on the road), some of their issues have carried over.
The 76ers are 13-2 at home this season putting up a 114.1 Offensive Rating and 7-9 on the road scoring just 109.9 points per 100 possessions in opposing arenas. The shooting splits are even more stark: They shoot 49.4% from the field and 37.6% from behind the arc at home to just 46.2% from the field and 34% as visitors.
I'm a bit more contrarian than most and like to bet on what's coming as opposed to what happened in the past. Along with the 76ers' road shooting issues, the Raptors have absolutely dominated the 76ers recently. The Raptors are 23-7 in their last 30 meetings with the Sixers and the last time Philly won on the road vs. the Raps was in 2012.
The Raptors have done a better job at defending Joel Embiid than most of the league. Still, I can't help but think that the 76ers playing their second consecutive game against the Raptors in Tampa Bay (not Toronto) should curb some of these issues. These duplex games have created an element where good, competitive teams go harder in the second game, not wanting to lose two consecutive games to the same team and I think there's value on the 76ers from that standpoint.
In their Sunday loss to the Raptors, the 76ers controlled much of the game, holding multiple double-digit leads in the first and second half before a complete collapse in the fourth quarter. The 76ers shot just 23.8% from the field in the fourth and were 1-of-11 from downtown. As a whole the 76ers shot just 38% for the game while Embiid was 6-of-20 from the field.
While some of this was good defense, I also think some of this was just negative variance and we should see a regression. The 76ers closed as 3-point favorites in the last game, and with Kyle Lowry potentially back in the lineup this line is just -1.5 in favor of Philly.
I'm going to lay the -1.5 points with the 76ers and look for them to avenge Sunday's loss to the Raptors and finally get their first win on the Raptors "home court" since 2012.
_BookPromo=496
---
» Return to the table of contents «
---
Golden State Warriors vs. New York Knicks
| | |
| --- | --- |
| Pick | Nerlens Noel Under 0.5 AST (BetMGM) |
| Tipoff | 7:30 p.m. ET |
| TV | NBA League Pass |
Brandon Anderson: I love 0.5-assist big man prop lines. Usually I play the over on these, just waiting all game for one precious dime, but tonight we're going the other way, living a night of existential dread, just hoping to fade a Nerlens Noel assist all night long.
I love that Noel found a role in the NBA as a rim-running defensive big man after all the injuries he's dealt with. He can switch on the perimeter, defend one through five against most teams, and most certainly protect the rim.
But on offense, he's never done much other than catch lobs and set screens. If Noel catches the ball anywhere but above the rim, something has usually gone horribly wrong — that's just not his game. That lack of offense along with his health has limited Noel's minutes over the years.
With Mitchell Robinson sidelined, Noel has been getting a rare chance to start and play big minutes, and he's done well. In four games as a starter, he is averaging 8.0 points and 7.0 rebounds in just under 30 minutes a game. More importantly, the Knicks have a 105.0 Defensive Rating with Noel on the court and 3-1 record to boot.
Noel has just three assists in those 118 minutes as a starter. That's one every 39.3 minutes, and that's only slightly down from his season numbers in New York. For the season, he has a whopping 12 assists in 503 minutes. That's a measly 3.4% assist rate, by far the lowest of his career. It's just one assist every 41.9 minutes, and it means Noel has gone without an assist in 15-of-26 appearances (58%) and two of his four starts.
Noel isn't the only Knicks center who is barely passing this season. Robinson also has a career-low assist rate. He recorded just 14 assists in his 778 minutes before getting injured. That's relevant because it shows Thibs' strategy for his centers: If they touch the ball, it should be a rebound or dunk.
I'm fading Noel tonight and hoping he goes without an assist again. There's always the chance his minutes fade too if he gets in foul trouble or just isn't the right matchup. I like this at plus odds, so I'm happy to grab at +130 and go along for the ride.
_BookPromo=495
---
» Return to the table of contents «
---
Portland Trail Blazers vs. Denver Nuggets
| | |
| --- | --- |
| Pick | Michael Porter Jr. Over 13.5 PTS (DraftKings) |
| Tipoff | 10 p.m. ET |
| TV | TNT |
Joe Dellera: The Nuggets will be without Gary Harris, Paul Millsap, JaMychal Green, and PJ Dozier for today's contest against the Blazers, which means more minutes and opportunities for Denver's other players to score.
Michael Porter Jr.'s points prop is listed at 13.5 (-110) at DraftKings and I'm targeting that line. MPJ's best shooting percentages this season are at the rim and on corner 3s — two areas the Trail Blazers struggle to defend.
While they are middle of the road in defending the rim (63.1% allowed), they are dead last in the league defending the corner 3-pointers (46.2%). Porter Jr. should be able to get good looks and take the shots he likes with increased opportunity due to injuries.
This game has one of the higher totals on today's slate and the Nuggets (111.9 – 21st) and Trail Blazers (115.8 – 29th) are both in the bottom 10 on the season in Defensive Rating, according to NBA Advanced Stats.
Additionally, our Action Labs prop tool projects Porter Jr. to score 17.4 points tonight, so the over on 13.5 is a bargain.
---
» Return to the table of contents «
---