Pickswise NFL Power Rankings: How we rate all 32 teams after Week 1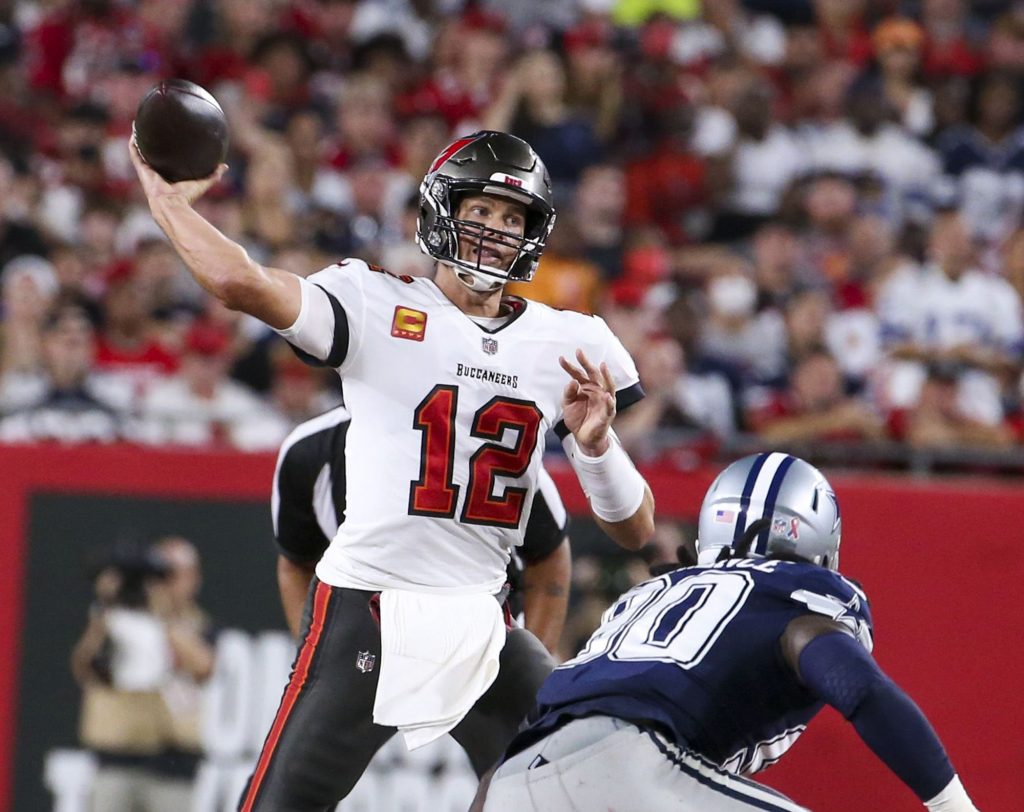 All 32 NFL teams have played their first games of the 2021 season, so we have had our first real glimpse of how they look with all their free-agent signings, draft picks and coaching changes factored in.
When compiling this list, the aim was not to overreact to Week 1 results and to continue to give weight to overall roster strength and what we've seen from the teams before. We've got a 1-0 team in the bottom three and a 0-1 team in the top five, for example. That said, if teams who were given the benefit of the doubt this time throw in another stinker next time, we won't be so kind!
But anyway, let's get into it and see how we rank the teams heading into Week 2.
1 Tampa Bay Buccaneers (1-0)
The Super Bowl champions opened with a win — not a mistake-free win by any means, but the Bucs are clearly still a force to be reckoned with.
2 Kansas City Chiefs (1-0)
The Chiefs were given a real scare by the Browns, trailing by 12 points at half-time, before a combination of Mahomes magic and self-inflicted wounds by Cleveland enabled KC to start 1-0, even though they didn't cover.
3 Seattle Seahawks (1-0)
This might look a little high for the Seahawks to some, but there was lots to like about their 28-16 win at Indianapolis.
4 Los Angeles Rams (1-0)
The Matthew Stafford era at the Rams got off to a nice start with a comfortable win over the Bears. Tougher tests lie ahead.
5 Cleveland Browns (0-1)
The Browns got one point closer to the Chiefs than in their divisional playoff loss at Arrowhead last year but it could have been even better after their fantastic first-half display.
6 San Francisco 49ers (1-0)
The 49ers looked like the dominant team we expected for much of their game in Detroit but the late rally by the home team was a worry and injuries have again begun to interfere with Kyle Shanahan's plans.
7 Buffalo Bills (0-1)
We expected better from the Bills, who stumbled in the second half of their home loss to the Steelers. Last year's performances keep them in the top 10 for now, though.
8 Miami Dolphins (1-0)
This ranking may look a bit of a reach but the Dolphins already have a head-to-head road win in New England and if Buffalo slip back their challenge for the AFC East will be looking good.
9 Baltimore Ravens (0-1)
The Ravens played their part in an exciting Monday Night Football finish but dropping a game to the Raiders sets a few alarm bells ringing.
10 Pittsburgh Steelers (1-0)
Preseason expectations of the Steelers may have been too low after their impressive start on the road at Buffalo. That gives us three AFC North teams in the top 10 to join the three NFC West teams, which shows you where the league's strength lies.
11 New Orleans Saints (1-0)
Another better-than-expected start here by the Saints, who stole the Week 1 headlines with their crushing win over the Packers. Needless to say, if Jameis Winston can throw 5 TDs every week, they will move higher.
12 Green Bay Packers (0-1)
Well, what was that we saw on Sunday? Some might think even 12th is too generous after the Pack were smacked that hard. We should be able to get a much better assessment of their prospects after their next three games against the Lions, 49ers, and Steelers.
13 Los Angeles Chargers (1-0)
The Chargers are a potential top-10 team and there was plenty to like about them getting a win on the road against the talented Football Team defense. Austin Ekeler must be kept in bubble-wrap on non-gamedays, though.
14 Tennessee Titans (0-1)
After the Packers in the let-down stakes comes the much-hyped Titans, who were stomped at home by Arizona. They will need to be far better to have a chance at Seattle this week.
15 Dallas Cowboys (0-1)
There was plenty of promise from Dallas in their home loss to the Super Bowl champions on opening night. They probably won't need to be great to win the NFC East this year, either.
16 Indianapolis Colts (0-1)
The good news was that Carson Wentz looked better than might have been expected on his return from injury, but the Colts lost their opener for the 8th successive year.
17 Denver Broncos (1-0)
Keep your eye on Denver this season. Their defense is for real and, while Jerry Jeudy's injury was not what they wanted, they have plenty of talent if Teddy Bridgewater can keep getting the ball to them.
18 Arizona Cardinals (1-0)
We'll be happy to move the Cardinals higher if they can repeat their mauling of the Titans against other good teams. Consistency has not been their strength, but a four-way battle for the NFC West would be pretty cool.
19 New England Patriots (0-1)
Okay, this one is possibly too low, but possibly not. Losing at home to a divisional rival on opening day is not a classic Belichick era result. Then again, beating the Jets is, and that should happen this week.
20 Philadelphia Eagles (1-0)
The Eagles can expect a big jump up the list if they can do to the 49ers what they did to the Falcons. Getting the crowd on their side before that game was smart.
21 Washington Football Team (0-1)
The WFT are the first team to lose their starting quarterback during the season itself but they look set to ride with Taylor Heinicke for the time being. A win over the Giants this week would be important for morale.
22 Las Vegas Raiders (1-0)
The Raiders scored a win over the Ravens that looks great on paper, but they rode their luck and there are still reasons to be concerned about Jon Gruden's team, as explained by Andrew Ortenberg in his Monday Night Football analysis.
23 Minnesota Vikings (0-1)
We expected better of the Vikings, frankly. They fought back well enough from an early 21-7 deficit to Cincinnati, only for Dalvin Cook to fumble in overtime and hand the game back to the Bengals. Minnesota should be higher with the talent they have, but they need to show it.
24 Carolina Panthers (1-0)
The Panthers should be happy enough with their start. Sam Darnold won his first game and Christian McCaffrey is not on the injury report. That's a recipe for improvement.
25 Cincinnati Bengals (1-0)
The Bengals showed up well in their opener and the biggest relief for their fans will be the evidence that Ja'Marr Chase has remembered how to catch a football. Their win over the Vikings was a great result after a setback-filled preseason.
26 Atlanta Falcons (0-1)
The Falcons were flat from start to finish in their heavy home loss to the Eagles. Even highly-touted rookie Kyle Pitts made a subdued start with just 4 receptions for 31 yards. The only way is up after that effort.
27 Chicago Bears (0-1)
The Bears were set a tough opening mission against the Rams but there were signs of hope, particularly from David Montgomery and their running game. Justin Fields scored his first NFL TD too, but we'll all have to wait a while longer for his first start.
28 New York Giants (0-1)
The Giants were clearly second-best to the Broncos on their 2021 debut and 26 yards on 10 carries from Saquon Barkley was probably not what they thought they were missing when they didn't have the running back last year.
29 Detroit Lions (0-1)
Passion and fight was the least we should have expected from the Lions after all those Dan Campbell press conferences and they showed plenty of spirit against the 49ers — in the last two minutes at least — to pull off an unlikely backdoor cover (with some books) in a game they had trailed by 28 points. That said, they looked outmatched when falling into that hole in the first place.
30 Houston Texans (1-0)
AFC South leaders Houston (file that one under 'phrases you didn't expect to write') get credit for a fighting performance against the Jaguars in David Culley's first game. Clearly they had a lot of people to prove wrong. But they need to beat a better team than the Jags to really prove them wrong.
31 New York Jets (0-1)
Things didn't go as smoothly for fresh-faced Zach Wilson on his NFL debut as it had in preseason and injuries are continuing to blight the Jets. Robert Saleh looks a man to trust to turn it around, but that turn may be more like one of an oil tanker than an ice skater.
32 Jacksonville Jaguars (0-1)
From a rebuilding job that may take time, to one that may not work out at all. The Jaguars looked horrible in Urban Meyer's first game, losing to a team many thought would be ranked 32nd themselves. The Broncos defense will provide a nasty test for Trevor Lawrence in Week 2.
Pickswise is the home of free NFL Predictions  and NFL Odds. Check out the latest NFL Prop Bets and NFL Parlays as well as expert NFL Underdog Picks and NFL Computer Picks. 
The post Pickswise NFL Power Rankings: How we rate all 32 teams after Week 1 appeared first on Pickswise.